Atlanta Area's Premier Resource for Trade Show & Event Decoration
Southeastern Convention Services is in the tradeshow, convention, conference, and exposition decorating industry. As a full service convention contractor that includes the complete setup and takedown of various pipe and drape, skirted and un-skirted tables, chairs, carpet, staging backdrop, stage stairs, clothing racks, signs, entrance displays, registration booths, modular displays, pop-up displays, and more inside various conventions and civic centers throughout the Southeastern United States.
Other services that are provided by Southeastern Convention Services include complete material and shipment handling for exhibitors and tradeshow organizers. Shipment handling involves receiving all sizes of shipments and drayage either at our warehouse for transport to the show facility or receive the shipments at the show facility for storage and delivery to exhibitors or show organizer(s). As trade show decorating and service contractors we also provide labor and rigging services. The labor is used for anything from convention booth setup to assisting trade show organizers with their own setup.
Pipe & Drape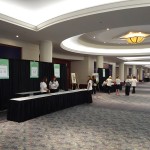 We continually expand our inventory of drape colors. We can also customize at your request any specialty pipe and drape setups. Please inquire about additional colors needed for your show. We will design and/or assist the setup of your show floor plan. We have years of experience in planning and design to work in many facilities. From ballrooms & meeting room BEO's to large convention halls. We also provide tables, chairs, carpeting, stanchions and whatever else your layout needs.Read More
---
Event Consulting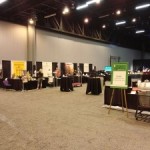 We have over 20+ years in the convention industry. If you are looking to start a convention or want to grow your event, expo, or trade show then contact us. We would love to discuss how we can help your convention!Read More
---
Trade Show Displays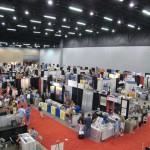 We can provide aisle markers so your exposition attendees will be able to easily navigate your show. Custom aisle markers are also available. We will work with you to provide exactly what you need! We also have professional printers to provide booth signage. We are able to keep our costs low and charge no hidden fees to provide the SAME signage as all the other guys.Read More
---
Website Services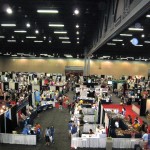 We have extensive experience in attendee & exhibitor registration systems. We can assist you in the quest for a user-friendly, robust, reliable registration system for your attendees (for online pre-registrations) and exhibitor registrations. We also provide consulting and complete website development for your convention or event! Read More
---
Audio & Visual Equipment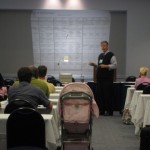 We have an extensive inventory of LCD Projectors, lavalier microphones, sound cables, overhead projectors, and more. We will work with you to provide the very best in NO-HASSLE audio visual services with NO HIDDEN FEES.Read More
---
Trash & Cleanup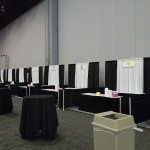 We can include trash service in every event. We'll empty trash multiple times throughout your event if requested. We also provide booth cleaning services during and after your show. We take the hassle and worry out of cleaning your show. Our labor rates are very competitive and may vary. No need to contract with your convention facility. We will provide this service at the lowest possible price.Read More
---
Material Handling Services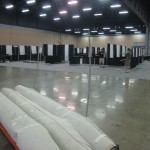 We handle all freight and shipments for your exhibitors and your event. Supplies and equipment can be delivered and stored at our warehouse until the event or can be delivered directly to the convention facility.Read More
---
If you are looking for an Atlanta [main_service] contractor, please call 770-713-6261 or complete our online request form.