Your Trade Show & Convention Trash & Cleanup Services in Atlanta & The Southeast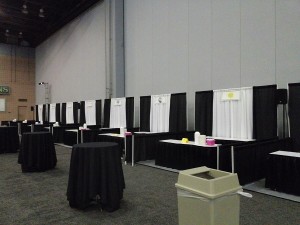 When you are putting on a big event, your primary focus is its success. This means all available space is taken up by interested and engaged attendees who walk away from the experience with good memories (or something to that effect).
To accomplish this, likely you are stressing over a number of details that are involved, least among them the cleanup at the actual convention or trade show. With all of the planning, organizing, designing, setup details and everything else that you've been dealing with, the last thing you want to have to think about is "who will pick up all the trash and keep the place clean during the event?"
Once again, Southeastern Convention Services is here to make your life easier. We are absolutely dedicated to providing the most complete and comprehensive array of convention services in the Southeast, and included in that is cleanup and trash detail.
Convention Trash Pickup & Removal
We have over two decades of experience in the convention and trade show industry so we know that every detail is important. We want to make the process as seamless as possible for you, so we think of everything, including the appearance of the grounds while attendees are enjoying your event. That is why we are the premier choice in the Southeast region for trade show and convention cleanup services. Southeastern Convention Services can handle any number, and often all, of your convention needs. We can supply labor for trash pickup throughout your event. Our staff will also clean the individual exhibitor booths during and after the show. At Southeastern Convention Services we understand the importance of conveying a professional environment, and keeping things tidy and clutter free is an essential part of that.
Event Cleanup Services
Your exhibitors are often extremely busy as the bulk of their efforts will be spent during your trade show, so we take the worry from you as well as them in keeping everything clean. When you let us handle your event cleanup, you won't have to worry about a thing. The booths, aisles, walkways and trashcans will remain spotless while your event is going on. Then, afterwards our staff will clean up your entire convention area so you can focus on follow-ups, networking and future event planning. Southeastern Convention Services truly is the one stop shop for all of your convention and trade show cleanup needs.
Our Atlanta Area Convention & Tradeshow Cleanup Service Professionals Provide the Following Services
Trash Detail During & After Event
Booth Cleanup During & After Event
Aisle Detail & Cleanup
Grounds Cleanup
Recent Event Planning Articles:
[footbridge_recent_articles]
---
If you are looking for event trash & cleanupservices for your Atlanta area event, please call 770-713-6261 or complete our online request form.