Atlanta & The Southeast Convention Website Services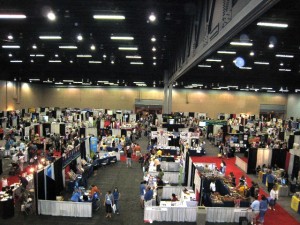 Putting on a convention or trade show can be challenging work. There are a lot of factors involved, from design and setup, marketing, etc. Another aspect that may seem like a mountain of difficulty is registration.
Your event will have to allow some means of registering for attendees, and likely that will mean someone will have to dedicate several man-hours to organizing these registrations.
Mounds of paperwork with names, payment options and other information must be sifted through and recorded to ensure that everyone wanting to attend has a spot. We can make it easier for your with our convention website services for your next expo in Atlanta and throughout the Southeast.
Online Registration Systems
In an effort to provide the Southeast with the most comprehensive list of convention and trade show services, Southeastern Convention Services can step in and take control of this difficult situation. We offer online registration systems for your attendees through a network of user-friendly systems we have access to. With our extensive experience in designing and organizing events of this nature, as well as the relationships we have built with third party equipment and technology providers, we can set you up with a seamless and easy to use event registration platform online that will eliminate the headaches of registration. The platform will be easy for attendees, as all they will have to do is go online and sign up, and it will be easy for you, since it will do away with those man-hours and paperwork. The platform can also be used for exhibitor registrations.
Consulting & Web Development
With the help of technology, you can streamline your registration process and save time and effort. That is why our web services are the preferred choice in the Southeast for event registration solutions. Not only do we offer online registration, but we can also provide you with consulting and even web development. Whether you simply want to create an online presence for your event or are looking to host valuable information on the web about all of your conventions or trade shows, we can assist. Just another aspect of a major event is its digital presence, and at Southeastern Convention Services we are committed to helping you craft the perfect convention or trade show by helping you with every aspect possible.
Our Atlanta Convention Website Service Professionals Provide the Following Services
Online Attendee Registration Platform
Online Exhibitor Registration
Web Consultation
Website Development
Recent Event Planning Articles:
[footbridge_recent_articles]
---
If you are looking for an Atlanta area event website servicesspecialist, please call 770-713-6261 or complete our online request form.