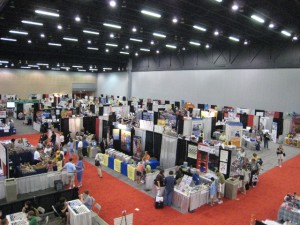 If you are an industry leader, networking and building connections is an important part of your business. One of the best ways to build your brand, provide a valuable service and strengthen those connections is by hosting an Atlanta trade show.
Putting on a trade show gets a large number of players in your industry under one roof. This is a terrific platform for networking, scoring leads or marketing your own services. The most important part is that you will ultimately be in control of this, as you are the facilitator of the event.
The Atlanta area is known for being home to some of the biggest trade shows around, which only illustrates the demand in the area. Whether you are part of an established industry or yours is underserved in the trade show market, taking charge and hosting your own is a positive step for your business.
Planning a Successful Trade Show
A successful trade showinvolves a number of important factors. Everything from the layout to the theme design will play its part. If you put on a trade show, and hire a qualified Atlanta convention service to help you, you can create a lasting impression with a respectable professional show. This can catapult your trade show to higher levels of popularity, setting the bar for your industry. The value you provide and the connections you will create because of that will make your trade show a staple in the Atlanta area.
Pros & Cons of Event Planning
If you are considering putting on your own trade show, you may wish to weigh the pros and cons. The cons are the obvious effort and time that will go into organizing such a large event, but the pros offer many advantages. For starters, you will be providing a valuable service, connecting buyers with sellers in your industry. This will automatically set your organization up as experts in your industry that has valuable contacts and much to offer. Next, understand that you will be filling an entire convention hall with people interested in your industry, giving you a large marketing platform for other offers you may have. Whether you utilize contacts after the show, or you use the show as a media platform for your message, your target audience will be present and open. Hosting a trade show is a powerful tool for business growth. If you decide to take on that task, be sure to consult with professional convention service providers in your area.