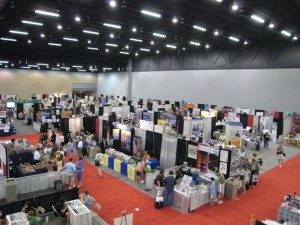 When you are looking for a way to get your business in front of a lot of potential customers all at once, exhibiting at a trade show with a custom booth is one of the best options available to you. The right display can help potential customers instantly connect with your business by directly demonstrating what makes your business unique and appealing. Having a trade show display that stands out generates instant interest, and this interest acts like a magnet, drawing attendees into your booth to speak with your sales team. Here are just a few of the ways that having the right display at your upcoming trade show can help highlight your business to potential customers with the help of Southeastern Convention Services.
Demonstrate Your Innovation & Creativity
Surveys show that over 90% of attendees at a trade show are there to see what new products the future holds. These shows are considered to be key places to go when you are looking for the latest and greatest new and innovative ideas coming up in your industry. Most attendees come to a trade show hoping to be blown away by the creativity, ingenuity, and advances that are affecting their field. This presents you with a golden opportunity to showcase all of the recent innovations and advancements your business has been working on to an audience that is already actively interested. The right booth design can help you highlight your business' passion and creativity, and show it off to attendees.
Showcase New Products & Services
Informing existing and potential customers alike about new products and services can be difficult at times, but a trade show presents you with a unique opportunity to get this information directly into the hands of people who are already interested. Customizing your trade booth with the right displays can help you to really highlight these new aspects of your company. Incorporating these new products and services directly into your design can also help you to gain visibility and stand out among competitors at trade shows. With the right display design, you can have an eye-catching display that will have your customers curious about your new offerings before they even step foot in your booth.
Reach New Customers
One of the main benefits of trade shows is that they allow many businesses to directly connect with potential customers who may have never had another opportunity to do so. Almost two-thirds of all trade show attendees are new customer prospects that haven't been reached by any other method. This makes trade shows an extremely important part of lead generation for any business. Having a custom trade show display can help you highlight your business to make it stand out from your competitors. This makes it a more appealing choice when attendees are looking for a potential booth to visit.
Opportunity To Educate Your Audience
Another useful aspect of having a custom trade show display is that it gives you a unique opportunity to help educate your customers on your products. Many attendees are at these shows to learn more about services and technologies that can help benefit their own companies, and having an interactive presentation with custom displays about how your products and services work and what sets them apart from those of your competitors can be just what you need to make sure that yours is the name they remember. When you are able to educate your potential customers while you are pitching your product, you not only help them understand what you are offering a bit better, but you are also exhibiting your expertise in the subject and letting them know they can trust what you are saying.
If you are looking for a trade show display specialist in the Atlanta area, call the professionals at Southeastern Convention Services, Inc. today at 770-713-6261 or complete our online request form.