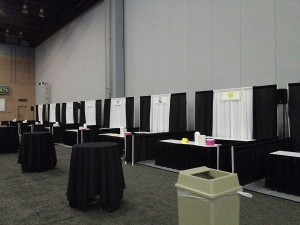 If you are planning a big and important event, such as a wedding, it is likely you want everything to be perfect. One extremely important aspect of this planning is the aesthetics and theme. If you are organizing a wedding or other black-tie affair, the appearance of your venue is crucial. Creating an atmosphere of elegance and refinement in a temporary space can present unique challenges.
One of the most effective and affordable ways to accomplish the creation of a truly opulent and sophisticated space, perfect for events like these, is with Atlanta pipe & drape services. Pipe and draping is fully customizable and can be made to fit the theme of any event. For the most magnificent events in the Atlanta, pipe and drape services are a fantastic choice.
Benefits of Pipe and Drape
Pipes are telescopic tubing that is supported by a base and creates a flexible frame for drapes. The drapes are panels of fabric of any color you choose that can be arranged along the piping. The versatility of pipe and draping is astounding. You can create a beautiful canopy hiding the metal beams and framework of a convention hall or you can provide a beautiful backdrop for a stage. Surround a room with cascading fabric and lights to create ambiance, or line the ceiling of a great dining hall. With proper lighting and carefully selected colors and fabrics, pipe and draping can transform your event into a lasting memory.
Hiring an Experienced Pipe & Drape Contractor
In order to take advantage of this wonderful service, you'll need to find a pipe and drape company in Atlanta. Your pipe and drape company should have a wide selection of colors and fabrics to choose from. Their selection should also be of the absolute highest quality. The pipe and drape service should include setup and breakdown in a timely and efficient manner. Your pipe and drape company should also offer a design consultation with a competent professional that can assist you in creating the perfect layout for your pipes and drapes. The next time you are responsible for putting on an important event, impress everyone by having it decorated with pipes and drapes.