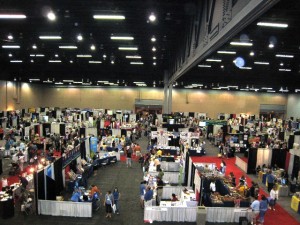 Conventions, trade shows, expos and other big events are often stressful to put on. From organization, design and implementation, there are a number of steps that must be done right in order to ensure success.
Whether you are planning to put on a convention or trade show to establish yourself as an industry representative, or you wish to grow your current event, a professional Atlanta event and convention service provider may be able to assist you.
There are several details that bog down an event organizer and make the task a seemingly insurmountable obstacle. Convention services have protocols in place and utilize their own labor force and connections to handle each and every detail so that your event is a success.
Steps to Successful Event Planning
The first step is to consult with a convention service representative and get details on how to properly put on an event. The representative should be knowledgeable and experienced and give you considerable value in the consultation. The next step is to utilize your convention service's experience in designing your event's layout. This will involve a theme and a floor plan. An important aspect of any convention or trade show is the flow of the event. This means that there is plenty of walk room as well as room for your exhibitors or speakers to present their information and have it clearly received. The theme typically dictates the color scheme of your event. This involves the color of the drapes as well as any custom graphics you may want to use to brand your event.
Once the layout is designed, a competent convention service will be able to assist with pipe and drape setup following the floor plan you designed. They will also offer carpeting and other design elements to truly get the look you are striving for in your event. They'll offer stanchions, tables, chairs and any other furnishing as well to aide in exhibition or other needs of your attendees and exhibitors. The purpose of an event is typically to provide information of some sort, so a quality convention service will also offer audio and visual equipment such as projectors and microphones. You'll also have the option of having all equipment and furnishings installed and set up for you.
Inclusive & Worry-Free Event Setup
A top notch Atlanta convention service will also offer trade show displays and other signage, such as aisle markers and banners to keep things looking professional while controlling traffic flow. Your convention service should also offer labor for trash and cleanup services. Keeping the aisles and booths clean is an important part of building a reputation for quality events. Some convention services even offer handling of shipments of material for you and your exhibitors which involves storage and warehousing, unpacking and setup of any freight. A really good service will also handle event registration of attendees and exhibitors for you.
When you work with a certified Atlanta convention service provider the worry is taken off of you. The services offered cover each and every detail, down to helping you market your event so that it grows, so you can focus on the important things. Event design, set up, decoration, cleanup and maintenance is a very detailed job that is best handled by professionals. If you really want to make an impact, put your best foot forward with a convention and trade show service provider.