Event Consultation Helps You Move Your Raleigh Event Forward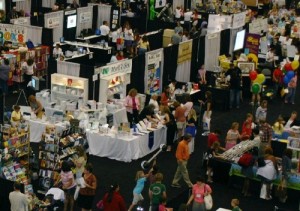 If you've hosted your own trade show or convention, you know it is hard work. There are a lot of details to consider; layout and theme design, floor plan, display set up, booth set up, media presentations, aesthetic appeal, registration and so much more. If you are looking to get a better handle over these details and want to grow your next event, Southeastern Convention Services can help.
We have over twenty years of experience in the trade show and convention industry. We know what it takes to throw a successful event and we know what pitfalls to avoid. With our Raleigh consulting services, we will walk you through every step to ensure you are maximizing your potential for a big turnout.
We will help advise you on proper marketing as well as decoration and services you can offer that will leave a lasting impression. When you utilize event consulting services from Southeastern Convention Services your event will be a memorable experience for all who attend. Call us today to learn more about our professional event planning services.
Pipe & Drape Services Make Any Raleigh Event Beautiful
The most effective and affordable way to set up and design a floor plan and room theme for a temporary area is with pipe and drape. Pipes are flexible, telescopic tubes that can be set up in organized, compartmentalized display areas. These pipes are the framework from which drape panels are hung. At Southeastern Convention Services we have a large inventory of colored drapes to choose from that can match any theme you have in mind. Our beautiful drapes serve as the perfect backdrop for stage decoration at a convention, neat and orderly display booths at a trade show, or even cascading wall liners for a beautiful wedding reception. The versatility of pipe and drape is amazing and the creativity of our design team is seemingly limitless. We will not only help you design your layout but also provide pipe and drape set up and dismantling. Once you have a floor plan, we'll take care of the rest. Make your Raleigh event stunning with pipe and drape services from Southeastern Convention Services.
Raleigh's Number One Trade Show Decoration Company
The pipes and the drapes are a huge part of the aesthetic design of an event, but not the only part. A lot goes into properly decorating an event, and decoration is extremely important. Your aesthetic elements create the ambiance, the atmosphere that leaves an impression on attendees. There are certain details that are essential if you really want to convey a professional and entertaining atmosphere, all of which Southeastern Convention Services can provide. We offer carpeting of varying colors that will not only be a welcome element of comfort but also really enhance the look of your showroom. We also offer furnishing; tables, chairs and even stanchions. These elements are crucial for exhibitors, conference attendees or trade shows that need to keep organization in the flow of traffic. We offer custom aisle markers and booth signs as well so you can help your attendees navigate your showroom floor in a manner that keeps your theme intact. At Southeastern Convention Services we literally think of everything when it comes to proper trade show and event decoration.
Recent Event Planning Articles:
[footbridge_recent_articles]
---
If you are looking for Raleigh convention services, please call 770-713-6261 or complete our online request form.