North Charleston Event Decorating and Convention or Expo Professional Services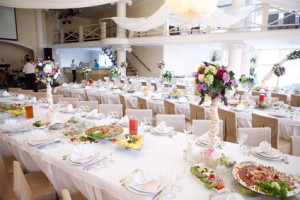 You are probably already aware that there a lot of steps that go into the convention of expo professional services for your North Charleston event. The trick is determining just who to entrust to take care of tasks for you like planning, displays, invitations, equipment rental, audio and visual plus so much more for your next big event. At Southeastern Convention Services, Inc., we are your one stop shop in order to take care of every detail of what you need completed.
We have had countless great successes with everything from trade shows to private events. No matter how big or small, we can cover it all. This lets you focus on other things while we take care of all of the behind the scenes work. Get in touch with us today and let's discuss planning and putting together your next convention, expo or other event.
Event Consulting in North Charleston
There is nothing wrong with knowing you could use some help, unless you don't bother to ask for it. The smartest kind of partner you could ask for is the Southeastern Convention Services, Inc. team. That's because we have the knowledge and experience to get the job done.
Behind every successful event is the planning that goes into it; so let our team take care of this by beginning with your consulting. Without proper planning, there are countless things that can go wrong. But when you trust in someone with decades of expertise in the industry, you can feel confident that everything will run smoothly.
Event Decorating in North Charleston
We are also available to help customize your event. Your event is unique and should be planned and carried out as such. So from the booth markers to the tables and chairs, as well as everything in between, we will be there to get the work completed for you. This includes right down to the very last detail.
Trash & Cleanup Services in North Charleston
Once your event is over the last thing you want to be worried with is taking care of the major clean up job you are facing – so why not entrust that to our team of experts? Our crew for trash and cleanup services will take care of this tedious task for you so your rented space looks as good as before, if not better. We will make sure you have the trashcans needed during the event and take care of the cleanup following it. Contact us today to find out more about what we can do for you.
If you are looking for a North Charleston event planning company, please call 770-713-6261 or complete our online request form.