JACKSONVILLE, FL EVENT CONSULTATION, TRADE SHOWS & CONVENTIONS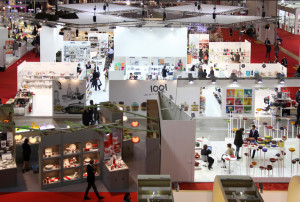 Do you have a special event planned for your business this year? If so, you'll want to be sure your goals of success are reached and that the event is successful.
Ensuring your success is what we do best here at Southeastern Convention Services. We have helped thousands of clients over the last couple of decades to not only have successful events but also have a great time enjoying the process.
Events can be anything from small weddings to huge conventions. So if you've been put in charge, it's going to be up to you to handle everything that happens. You'll want a professional who has the experience and all the equipment you may need, and who can support you whenever you need it.
From handling your labor needs, to choosing and setting up decorations, to creating signage for the event, our professional services are available to you when you need it. We can help from start to clean up.
Trade Show Decoration & Setup in Jacksonville
Decorating and setting up for a trade show isn't easy. You have to jump out ahead of everyone else and attract the most attention possible without being overbearing or going overboard on everything. The design has to be carefully planned so the decorations are tasteful and appropriate while also being functional.
You may want to consider using some carpeting for the event. Carpets can set specific areas for sitting, can direct foot traffic, and will always add to the appeal of the space.
Furnishings may be needed for various reasons. We have plenty of options for you in tables, chairs, and other furnishings for your event.
Trade shows mean competition and if your business doesn't stand out among the rest, you're just blending in and it will be hard to attract attention to your services or product. The right signs can attract the most attention so you'll have plenty of traffic headed your way.
Pipe and Draping Service in Jacksonville
Pipe and Drape is a system that can be used for many different purposes. They are most commonly used for creating a framework that will hold draperies. They can be used as a backdrop at a show, to direct foot traffic, or to set apart areas of your space.
The drapes are hung along poles and make your space decorative as well. They attract attention and can be used for a special focal point.
You'll have many options in colors to complete your décor. And at Southeastern Convention Services, we'll install them for you professionally. You won't have anything to worry about but how you want to lay them out, and we can even help you with that and any other decisions you need to make. Just give us a call and we'll schedule a consultation to determine your needs.
If you are looking for a Jacksonville event planning company, please call 770-713-6261 or complete our online request form.