GREENSBORO, NC EVENT DECORATING AND CONVENTION OR EXPO PROFESSIONAL SERVICES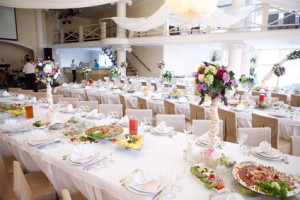 Have you been put in charge of handling an event, convention, or expo? If so, do you have experience handling the type of event you're needing to plan?
If not, or perhaps even if you do, you may want to consider using a service that can help you from start to finish with your project. When you have someone by your side, you'll have a lot less stress and all the professional experience you probably don't have.
If you would like to be successful yet not be laboring to accomplish all the planning and every task on your own, having us by your side will go a long way to making your event something you enjoy.
We've spent a little over twenty years in event decorating and convention or expo setups and provide our customers with all the tools they need to have a successful outcome. From layout to planning to setup to equipment rentals, you'll have everything you need when you call on us at Southeastern Convention Services, Inc.
Event Decorating in Greensboro
Events can be anything from small weddings to huge music concerts held in a convention center, or even a huge trade show or expo. Larger events require more planning, more layouts, and better setup. You'll need to take a lot of things into consideration in order for the event to go off as planned.
From how many people to expect to decorating to renting equipment, a million details are waiting to be decided and implemented. With our professional help, you'll have the following at your fingertips…
Layout
Planning
Setup
Labor
Rentals
Convention & Expo Professional Services in Greensboro
Even large scale projects are no problem for our experienced staff here at Southeastern Convention Services. We have all the services you need for your event including the hiring of laborers and clean up personnel:
Pipe & Drape
Event Consulting
Trade Show Displays
Rental for tables, chairs, and more
Website Services
Audio & Visual Equipment
Trash & Cleanup Services
Material Handling Services
Event Consulting Services in Greensboro
When you have an event to handle, you'll get much better results when you use a service like ours here at Southeastern Convention Services. We know all the ins and outs of convention planning.
If you want to stay ahead of your competition, there's no better way to do so than to hold a successful special event to get your business attention. And there's no better way to attract attention than to hire a professional to help you with it. Call today and we'll assess your needs and determine how we can help you be successful during your event!
If you are looking for a Greensboro event planning company, please call 770-713-6261 or complete our online request form.