The Best Event Consulting Services in Nashville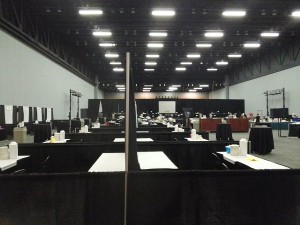 If you are thinking of putting on your own convention or trade show, but are not sure exactly how to do it properly, you need Nashville event consulting from Southeastern Convention Services. We have over two decades of experience in the trade show and convention industry and we know exactly what it takes to throw a successful event. When you allow us to offer you the benefit of our experience, we'll guide you through every step of the process.
There are a tremendous amount of details that might get overlooked if you try to take on such a task alone. We'll advise you on everything from layout and floor plan design, decoration, furnishing, shipping, media equipment, presentations and even attendee and exhibitor registration. Events are our business and we are committed to providing the absolute highest quality consultation possible in order to ensure your trade show or convention is a success.
That is why we are the number one choice in Nashville for event consulting services. Our consulting services aren't just for people who have never hosted their own event. If you want your convention to grow, we can help with that too. Savvy marketing as well as meticulous attention to aesthetic design and event features will fill up your next event and leave a lasting impression. If you want to make your next event the talk of the town, call Southeastern Convention Services today.
Nashville's Premier Pipe & Drape Services
Pipe and drape is the most effective and affordable way to completely design a temporary space to fit the theme and floor plan needs of an event coordinator. Flexible, telescopic pipes are set up to allow space for display areas, stage backdrops or other elements. The pipes provide a framework from which drapes are hung that provide a stunning aesthetic quality that is both functional and beautiful. At Southeastern Convention Services we have a huge inventory of colored drapes. We keep a large stock of selections to best serve Nashville event throwers who really want to customize their event to a theme that reflects the tastes and character of the convention. Not only do we offer help in floor plan and theme design, provide the pipe and drape but we also set up and breakdown your pipe and draping. All you have to do is approve a layout and we will take care of the rest. Sit back and watch as your event showroom is transformed into a professional and sophisticated space that will really impress your attendees.
Trade Show Decoration & Setup in Nashville Makes for a Hassle-Free Event
Many event organizers don't understand the importance of decoration. It may seem like a detail that is less important than other crucial aspects, but proper decoration is what creates the impression that will stick with your attendees and make your event a memorable experience. At Southeastern Convention Services, we have extensive experience designing very successful events in Nashville and we know what details are important. Accordingly we offer stunning and professional decoration for your event so you can rest easy knowing your trade show, convention or expo will reflect your level of commitment and professionalism as an industry leader. At Southeastern Convention Services we offer carpeting of varying colors to fit the theme of your event and enhance its aesthetics. We also offer furnishing; tables for exhibitors or diners, chairs for convention attendees, stanchions that help keep traffic in line and custom aisle markers to help attendees navigate the space. We also offer booth signage so you can convey information while keeping your theme intact. When you let Southeastern Convention Services decorate your trade show, we'll help make it a memorable experience for everyone.
Recent Event Planning Articles:
[footbridge_recent_articles]
---
If you are looking for a Nashville event planning company, please call 770-713-6261 or complete our online request form.