Event Consulting in Montgomery Helps Prepare You for Your Big Event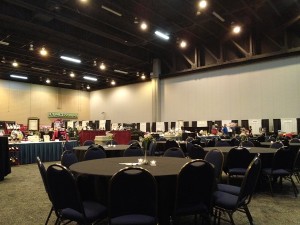 Whether you are an industry leader looking to host your own trade show or are tasked with planning a wedding, a big event is a big commitment. Rather than stumble through the learning curve alone, let Southeastern Convention Services help you. We have over twenty years of experience in the trade show, convention and event industry and we give you the benefit of those years of learning by trial and error with our quality event consulting.
We know exactly what it takes to make an event successful as well as the pitfalls to avoid. We will walk you through every step of the process to ensure you maximize your success results when you throw your event. We advise you on every detail from layout design and floor plan to attendee registration. When you work with Southeastern Convention Services we leave nothing to chance, believing that proper preparation will set you up for a win. That is why we are the number one choice for Montgomery event consulting services. Not only do we consult on new events, but we will also help you grow your current event.
Perhaps you've already figured out a lot of the details and the hard stuff, now you just want your convention to grow. We can help with that too. We know how to advise you on proper marketing as well as decoration and set up that will have a memorable impact. With our help, we'll turn your event into a stellar show that is recognized for its professionalism and stunning aesthetics. Give us a call to start planning your next expo or trade show.
Montgomery's Best Pipe & Drape Services
Pipe and drape is the signature element of a trade show. That is because it is the most affordable and effective way to provide themed decoration and organization to a temporary space. The pipes are telescopic, flexible tubing that can be setup in just about any way you want. Typically pipes are used to set up a floor plan sectioning off display areas in an organized fashion. These pipes are then hung with drapes that allow for privacy, organizing individual spaces and stunning décor. At Southeastern Convention Services we have a huge selection of drape colors in our inventory. We keep this inventory because events are our business and we want to best serve Montgomery by allowing the versatility you need. You can design your event with any theme and any color scheme you wish. We also provide setup and dismantling of your pipe and draping before and after your event. We take all of the worry out of setup so you can focus on other things.
Trade Show Decoration Services in Montgomery
There are several aspects of good event decoration, many that you may not have thought of. The pipe and draping may have sectioned off a workable floor plan, but you still need carpet to really convey an atmosphere of professionalism. If you are throwing a convention, you'll need chairs for your attendees to sit in on boards and listen to speakers. We also have tables of all sizes; these can be used for exhibitors in a trade show or for dining at a wedding reception. We offer stanchions and custom aisle markers too that will help keep an organized flow to the traffic while also keeping your theme intact. We even offer booth signage so any message or information you wish to convey can be done in a clean and decorative manner. The decoration of your trade show is a big factor in the image your event portrays. We'll make it a memorable one when you call Southeastern Convention Services.
Southeastern Convention Services, Inc. is Rated: 5 / 5
based on these 1 happy customer reviews.
---
"Provided top level service and work the whole project through."
---
Recent Event Planning Articles:
[footbridge_recent_articles]
---
If you are looking for a Montgomery event planning company, please call 770-713-6261 or complete our online request form.