Charlotte's Number One Resource for Event Consulting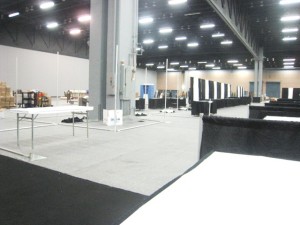 If you are thinking of putting on a convention, exposition or even planning a wedding, unless you are a professional, you may need some assistance. At Southeastern Convention Services we have over twenty years of experience in trade shows, expos and conventions and we make our knowledge of how to organize a successful event available to Charlotte residents.
We'll assist you in planning and designing every detail of your event so you can confidently put together a memorable experience. Whether you are an industry leader looking to put on a trade show or an organizer responsible for a non-profit benefit, we can help. Our expertise in design and implementation of events big and small make us the preferred choice for event consultation in the Southeast. Charlotte event consultation is not just for those looking to throw an event. We can also help you grow.
We don't just consult on HOW to put on your own convention or other event, but also how to market it, utilize high quality material and equipment to make it engaging, decorate it to make it memorable and much more. We'll help you grow your event to unequaled proportions so that you can enjoy being recognized for your conventions or trade shows year after year. When you need help planning your expo, give us a call.
Pipe & Drape Decoration Brings Your Charlotte Event To Life
Pipe and draping is an effective way to keep things clean looking and organized while also elegantly decorating your Charlotte showroom floor in a themed manner. Pipes are the telescopic, flexible tubes that provide the frame from which colored drape panels are hung. These provide neatly sectioned display areas for exhibitors, an elegant back drop for a stage or even fancy decoration for a wedding or black-tie affair. They are an extremely versatile design element that serves a valuable purpose in both function and beauty. If you want your event to convey a level of professionalism and refinement, pipe and drape services from Southeastern Convention Services is the way to go. We also offer setup and breakdown of your pipe and draping. Our crew will set up the pipes and drapes according to your floor plan layout and when the event is over, they will take care of everything. If you want to be known for putting on the most organized, professional and stylish events in Charlotte, give us a call.
Trade Show Decoration & Setup Makes Your Charlotte Stress Free
Pipe and drape may be a large factor in your event decoration, but it isn't the only thing. There are many other aesthetic details that you may not have even thought of. But that is ok, because we have. At Southeastern Convention Services we also offer carpeting for your Charlotte event. Enhance the look and professional atmosphere with carpet that fits your theme. We offer furnishing as well; tables for exhibitors or dining, chairs, stanchions or any other element you or your guests may need. We offer custom aisle markers and booth signage too. Keep things organized and flowing properly while giving necessary information in a clean and professional manner that fits your event's décor. At Southeastern Convention Services we handle every aspect of your event decoration, so you can focus on other important things. Rest assured when we take care of your décor, people will remember your event for its professional environment and stunning aesthetic design.
Recent Event Planning Articles:
[footbridge_recent_articles]
---
If you are looking for a Charlotte event planning company, please call 770-713-6261 or complete our online request form.