Event Consultation for Your Charleston Trade Shows & Conventions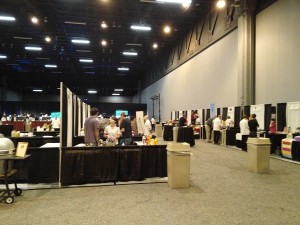 Putting on a convention or trade show is a big task. If you have ever done it, you are aware that there are many details involved. Once you have surmounted those details, the next big task is growth. That is where Southeastern Convention Services comes in.
We have over two decades of experience in the trade show and convention industry. We know what it takes to run a successful event. We have consulted on, organized and designed countless expos and other events in the Southeast. When you are ready to take your event to the next level, you need to call us. We can consult with you on all the right steps to take to get the word out and throw the absolute best event possible. We cover everything from proper marketing to event décor and anything in between.
We can ensure that your next event will have an extremely professional atmosphere and stunning design that will leave people with a memorable impression. Everyone, attendees and exhibitors alike, will walk away from your event intending to go to the next one for sure. If you have never hosted your own event and are considering it, our Charleston consulting servicescan help you as well. We can advise you through every detail so you are sure to have a successful first event. At Southeastern Convention Services, we know trade shows and conventions, which is why we are the top choice in Charleston for event consultation.
Pipe & Drape Setup Makes a Beautifully Themed Event in Charleston
Often the backdrop in a trade show, people may not initially realize the impact pipe and draping has. Utilizing pipes and drapes is the single most effective and affordable way to set up any temporary space in an organized and sophisticated fashion. Whether the use of beautiful cascading drapes and lighting will decorate an elegant wedding reception or bright colored panels will create a uniform and organized floor plan for a trade show, pipe and draping can do it all. The flexible pipes can be set up in any way necessary to provide the framework, not only to support the drapes but also to create a floor plan layout that will inevitably affect the flow of traffic through your event. At Southeastern Convention Services we have a wide selection of drape colors and materials. We keep a large inventory because making events successful is our business. We have just about any color and style you can imagine so we can match or design any theme you could possibly desire for your event. We also offer setup and breakdown so you don't have to worry about a thing. Just come up with a floor plan and we'll do the rest.
Charleston's Best Trade Show & Convention Decoration Services
Pipe and drape may be a large factor in your event decoration, but it isn't the only thing. There are many other aesthetic details that you may not have even thought of. But that is ok, because we have. At Southeastern Convention Services we also offer carpeting for your event. Enhance the look and professional atmosphere with carpet that fits your theme. We offer furnishing as well; tables for exhibitors or dining, chairs, stanchions or any other element you or your guests may need. We offer custom aisle markers and booth signage too. Keep things organized and flowing properly while giving necessary information in a clean and professional manner that fits your event's décor. At Southeastern Convention Services we handle every aspect of your event decoration, so you can focus on other important things. Rest assured when we take care of your décor, people will remember your event for its professional environment and stunning aesthetic design.
Recent Event Planning Articles:
[footbridge_recent_articles]
---
If you are looking for a Charleston event planning company, please call 770-713-6261 or complete our online request form.