COLUMBUS, GA EVENT CONSULTATION, TRADE SHOWS & CONVENTIONS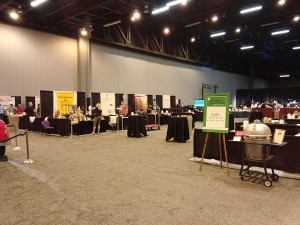 Planning and running your event isn't an easy task, and we understand that here at Southeastern Convention Services. Over the last two decades, we've helped numerous clients create unforgettable, phenomenal events. We provide services that can cover every detail of your trade show, convention, or other event.
Event Consulting Services in Columbus
Our services include consulting. We can help you to avoid common mistakes that can damage your success. Our consultation with you will provide you with experienced advice that you can count on. We can help you to make your event memorable and really stand out.
If you would like a better opportunity for success, use our years of experience in the industry. From table signage to traffic flow to design, we are the premier event consulting service in Columbus.
Pipe and Draping Service in Columbus
Pipe and drape systems are utilized for a number of purposes including lining the ceiling of large reception halls and as back drops at art gallery shows. Draperies are installed on areas of the pipe system. Our drapes are available in a full line of colors so matching your design or another element will be easier.
Trade Show Decoration & Setup in Columbus
Trade shows can be time consuming and frustrating to set up for if you don't have the help you need. Your goals will include being able to ensure that your space is noticed and appears professional. Your space should be attractive and stand out from your competitors.
At Southeastern Convention Services, we will help you achieve all of these goals and more. We want you to have complete success at your event. Our services include these great options and more:
Carpeting – area carpets can add a focal design element to your space and do a lot to enhance the look of your event. It also makes nice areas for attendees to rest from the long periods of standing and walking.
Furnishings – tables, sitting chairs, stanchions, custom isle markers all help to guide lines of people through your space.
Booth Signage – Nothing pops like a good sign. This is the manner in which you provide information in a professional and organized way. Your signage can leave a lasting impression on visitors and can act as tools for your employees who may not know off hand about all of your top products or services.
Recent Event Planning Articles:
[footbridge_recent_articles]
---
If you are interested in learning more about our Event Consultation or Convention Services, call 770-713-6261 or complete our online request form.