COLUMBIA, SC EVENT CONSULTATION, TRADE SHOWS & CONVENTIONS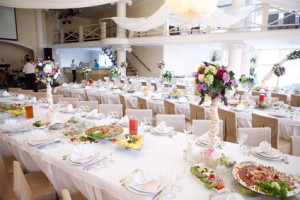 When you need help with your event, Southeastern Convention Services is here to help. Hosting an event is a complicated and detailed process that can become daunting and stressful at times. If you ever for a moment feel overwhelmed and like you need someone, call us to see what all we can do for you.
Pipe and Draping Service in Columbia
Pipe and Draping involves the using of flexible pipes that are telescopic and can be connected together to create a system of framework to hold draperies or organize traffic flow. This versatile and convenient system is easy to install and is lightweight. There are specific techniques and set up tricks that make the system safe and sturdy to handle your convention needs.
At Southeastern Convention Services, we can professionally set up pipe and drapes system so you don't have to worry about anything except designing the floor plan. We'll take it from there and set up and breakdown you system.
Pipe systems are great for lining the ceiling of a large reception hall and are perfect for use as backddrops for an art gallery showing. We have a full line of colored drapery panels for you to choose from.
Trade Show Decoration & Setup in Columbia
To make your trade show really stand out amongst competitors, you'll want to utilize some of our other services. We can help your space look professional and appealing, enhancing the attraction of potential customers.
Here are a few options that can help:
Carpeting – area carpets can add a focal design element to your space and do a lot to enhance the look of your event. It also makes nice areas for attendees to rest from the long periods of standing and walking.
Furnishings – tables, sitting chairs, stanchions, custom isle markers all help to guide lines of people through your space.
Booth Signage – Nothing pops like a good sign. This is the manner in which you provide information in a professional and organized way. Your signage can leave a lasting impression on visitors and can act as tools for your employees who may not know off hand about all of your top products or services.
Event Consulting Services in Columbia
Our consultation service is where we begin to discover your needs and how we can help you. We are professional event planners and can handle all your convention needs. We offer you our two decades of experience in the trade show and convention industry.
Rely on our experience and you won't have to worry about common mistakes and pitfalls. We will walk you through every step of the way if that is what you need, or can help you in whatever area you are needing help with.
Recent Event Planning Articles:
[footbridge_recent_articles]
---
If you are interested in learning more about our Event Consultation or Convention Services, call 770-713-6261 or complete our online request form.