BESSEMER, AL EVENT DECORATING AND CONVENTION OR EXPO PROFESSIONAL SERVICES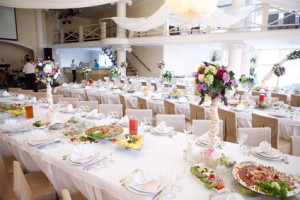 When you get involved in planning for an important event, it's your responsibility to make sure everything runs smoothly and that the main goal is accomplished. Whether the event is a small wedding, a large wedding, or a super huge convention, everyone will expect it to be fantastic.
Just that responsibility alone means that you're going to need professional help with your event. There's no reason to go it alone when you have help available to make the process run smooth.
Preparing for an event means a lot of steps and planning are put into the decorating, layout, foot traffic flow, seating, and a hundred other million details. Yet it's impossible for just one set of shoulders to carry all that weight alone. At Southeastern Convention Services, we'll help you carry the load!
Event Decorating in Bessemer
Your event needs to look great, attract guests or clients, and function properly. Decorations serve all areas, including placements and layouts that can direct foot traffic. You'll know you have professionals with our services when you see what we can do for your event decorating! Not only can we give you a breathtaking space, but it will serve you well functionally also.
We can help you with:
Layout
Planning
Setup
Labor
Rentals
Convention & Expo Professional Services in Bessemer
Our decades worth of experience can help you organize and setup your convention or expo. No matter how large your special event is, our Atlanta area event consultation and preparation services will set you up for success.
Whether you need a little advice from a professional consultation or want us to do it all, we're available with a full line of services for your show.
Pipe & Drape
Event Consulting
Trade Show Displays
Rental for tables, chairs, and more
Website Services
Audio & Visual Equipment
Trash & Cleanup Services
Material Handling Services
Event Consulting Services in Bessemer
Sometimes you just want some great advice, and maybe a few planning or decorating tools to help you along the way. Our experienced team can help you with a professional consultation that will assist you to whatever level you desire.
We'll assess your current planning and what you have in mind for your event and advise you of what services we can offer to help. We want you to succeed, and all our efforts will have that in mind. For a team of ready professionals who know all there is to know about special events, give us a call at the number below.
If you are looking for a Bessemer event planning company, please call 770-713-6261 or complete our online request form.