Event Consultation in Athens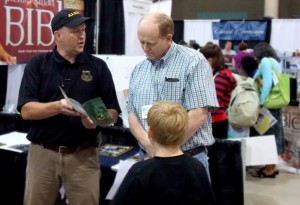 If you are thinking of putting on your own trade show or convention, you have a lot of planning ahead. Don't take on the daunting task alone; Southeastern Convention Services is here to help. We offer you the benefit of over 20 years of experience in the trade show and convention industry.
We have designed, organized and consulted for countless events and we know what it takes to make one successful. We walk you through every step from design and floor plan layout to attendee registration and everything in between. We will also advise you on the best ways to grow your event to be the most successful trade show, convention or expo it can be. We'll warn you of pitfalls to watch out for and help you plan for each and every detail. If you truly want your event to be a smashing success, we're the ones to call.
That is why we are the preferred choice for Athens event consulting services. We don't just offer consultation for people wanting to throw their first event either. We can also help you grow your current event. With proper marketing and the right decorations and layout, you can make your event the talk of the town. Want to leave a memorable impression that will have people coming back year after year? Call Southeastern Convention Services today to learn more.
Pipe & Drape Services for an Elegant Athens Event
Pipe and drape is a crucial element to a successful event because it allows the versatility to theme and decorate a temporary space in stunning ways. Flexible piping can be shaped in a number of different directions offering any kind of layout or floor plan to neatly contain the displays in your event. This framework supports drape panels of varying color that fit your theme. At Southeastern Convention Services we keep a large inventory of colors and materials so that we can offer Athens residents the widest selection of pipe and drape options. With our variety of choices you can elegantly decorate a wedding reception, provide a stylish backdrop for a convention speaker or section off display areas for exhibitors in an efficient and organized way. Pipe and draping provides the foundation for the look and flow of your entire event. Not only do we provide you with the materials but we'll also set it up for you and break it down when the event is over. We take the worry out of setting up your event so you can focus on other things.
Athens's Number One Trade Show Decoration
Pipe and drape, while important, is not the only aspect of your event decoration. In fact, there are so many details you may not have considered, but that is ok because that is why Southeastern Convention Services is here. We also offer carpeting so that you can offer the utmost professional atmosphere while providing a more comfortable space to walk the entire day. We provide furnishings as well, to include chairs for convention halls, tables for exhibitors or diners, aisle markers to keep things organized and booth signage so that you can neatly and effectively direct your attendees while keeping your theme intact. At Southeastern Convention Services we literally think of every aspect of your show's decoration, so you don't have to.

Recent Event Planning Articles:
[footbridge_recent_articles]
---
If you are looking for Athens convention services, please call 770-713-6261 or complete our online request form.